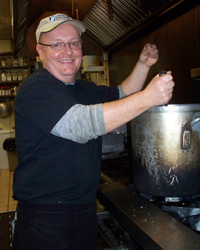 Started at Scooter's:

In 1997
Hometown:
Dallas, PA

Favorite thing about Scooter's:
The fun work environment and the feeling of accomplishment that comes from creating meals for Scooter's patrons to enjoy.

Favorite menu item to eat:
Any of the pasta dishes… especially the Southwest Pasta.

Favorite menu item to cook:
The lunch specials of the day… some of Steve's favorite creations include New Orleans Seafood Pasta, any of our Toasted Sandwich Melts, and seasonal salads with fresh fruits and veggies.

Favorite drink:
A bottle of Rolling Rock.

Favorite things to do when not at work:
Reading, and being actively involved with the Brickerville United Lutheran Church.

Favorite recipes to make at home:
Any kind of soup… Minestrone, Tomato Bisque, and more.

Favorite soup creation that's made it onto the Scooters menu:
Crab and Roasted Red Pepper Bisque

A Favorite Recipe to Share:
Steve's Pesto Turkey Flatbread Sandwich
Add a hearty helping of fresh pesto to a piece of flatbread
Layer sliced smoked turkey, provolone cheese and roasted red peppers on top
Bake in a 400 degree oven for about 4-5 mintues, until the cheese is melted
Add baby spinach and fresh sliced tomato, fold it over and slice it in half
Enjoy with chips and a cold bottle of Rolling Rock!